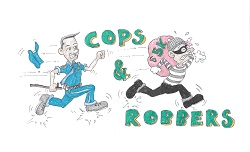 *** New Info 2-10-22****
We are pleased to announce that we will be putting on the Cops and Robbers 5K again in 2022. The race date is May 21st the last day of National Police Week!
The Patrolmens Benevolent Association is hosting a 5k run/walk to benefit Guns 'N' Hoses. The event takes place on May 21st. at Shoaff park. The 5k begins at 10:00. This event is Cops and Robbers themed and when you register you will get to chose what side you want to be on. Both teams have their own team shirts that everyone will get. If you have Facebook there is also an event page there you can follow for updates.
Packet pickup for the event takes place from noon to 6:00 pm at the Conklin Pavilion at Shoaff Park
You can get registered for only $25 by going to runsignup.com and searching for Cops and Robbers 5K. You can also follow the event page on Facebook by searching Cops and Robbers 5K. We will be having a free kids fun run that will take place after the start of the 5K for the younger kids.
Check back for more updates!
Ealing
Page Last Updated: Feb 10, 2022 (09:50:49)